November ETEPC Luncheon Meeting
Date:
Tuesday, November 13, 2018
Location:
Hollytree Country Club, Tyler, Texas
Speaker:
Thomas W. Cullinam, J.D., FCEP®
Please join us Tuesday November 13, 2018 at Hollytree Country Club from 11:30am - 1pm for a luncheon meeting. Our speaker for this event will be Thomas W. Cullinam, J.D., FCEP®.
The objective of this presentation is looking at charitable and non-charitable planning and offering solid guidance for legal and financial services professionals on asking philanthropic and other important questions.

joined Thompson & Associates in 2013 as Senior Vice President to serve nonprofit organizations and their generous supporters. His responsibilities expanded in 2015 when he was appointed Regional Manager to recruit and mentor new Associates. He has 25 years of combined experience working as a charitable giving consultant and gift planning specialist at several nonprofits. Over this span, Tom has facilitated charitable gifts having a total of nearly $1.2 billion.
He has been editor of Planned Giving Today since 2011, served as dean of the Charitable Estate Planning Institute in 2017, and was director of the National Planned Giving Institute at the College of William & Mary for five years. He frequently presents to charitable giving professionals and has delivered continuing legal education in 15 states.
Tom earned his J.D. degree from the University of Nebraska College of Law. He served on the national board of the National Association of Charitable Gift Planners and was named to the inaugural class of its Leadership Institute in 2011. He is a member of the Corpus Christi Estate Planning Council and the Planned Giving Council of Houston.
We know this will be a great time, and an event you won't want to miss. So please make arrangements to join us on November 13, 2018. The RSVP deadline is Friday November 9, 2018 and any last minute cancellations need to be sent to us no later than noon, Monday November 12, 2018. For more information you may contact: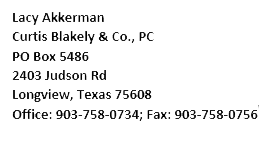 Related Document(s):